Have you ever wanted to skydive but can't logically see yourself jumping out of a perfectly good airplace? If so, iFly Orlando is the place for you. This attraction simulates the feeling of skydiving, but at an indoor facility where the ground is always nearby. Go inside at iFly Orlando  and see what it's like to experience indoor skydiving. iFly Orlando is safe and fun for all ages over 3. No experience needed!
Now that you know how awesome indoor skydiving can be, purchase discount iFly Orlando tickets with Reserve Orlando.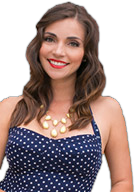 Bianca is a travel professional, and prides herself on her knowledge of vacation destinations big and small. With 8 years in the tourism industry, she brings you updates on how to make the most out of your time, money and energy in her favorite cities throughout America.