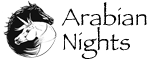 Arabian Nights Dinner Show
in Orlando, FL
Arabian Nights Dinner Attraction
•
3081 Arabian Nights Blvd
•
Kissimmee
,
FL
34747
About Arabian Nights Dinner Attraction
Arabian Nights Dinner Show has permanently closed.
Check out these other great dinner shows.
In a city filled with entertainment experiences, Arabian Nights is truly a one-of-a-kind show that has won the hearts of millions.
A tale of excitement and intrigue unfolds amidst the splendor of the Palace of Horses. More than 60 of the world's most stunningly beautiful horses combine with special effects and incredible stunts to create a unique and spectacular Broadway-style production. At the exciting Arabian Nights Dinner Attraction, guests enter the magical world of Scheherazade, a young girl with a bigger-than-life dream of becoming a beautiful Princess. A magical Genie takes Scheherazade and her guests on a thrilling and romantic adventure filled with music, lights and daring acts where anything can happen, from a square dance on horseback to Gypsies leaping, flipping and dancing on moving horses' backs!
Guests will dine on a sumptuous three course dinner, including salad and desert, with unlimited soft drinks.
The VIP Experience offers great value for your experience, and includes:
Seating in the first three rows
Dining selections from the Genie Menu
Early entrance and access to the arena
Sneak peek stable tour
Pre-show activities for our youngest guests
VIP posters and stickers
Vegetarian meals are also available.
Please refer to our FAQS for detailed information about the meal options at Arabian Nights.
Arabian Nights Dinner Attraction Frequently Asked Questions
What time are the shows at Arabian Nights?
Shows are held every night of the year with shows usually either at 6:00 and/or 8:30 p.m.
What time should guests arrive for the show?
We recommend arriving at Arabian Nights 45 minutes prior to show time to allow for parking, check-in, and partaking in our amazing pre-show. Also, keep in mind that for general admission, seating is on a first come first served basis.
How long is the show?
The length of the show is 90 minutes with no intermission. Restrooms are conveniently located right outside the doors of the arena for ease of use.
What is the pre-show at Arabian Nights?
Arabian Nights has many entertainment opportunities available as part of our pre-show entertainment. House doors will open 1½ hours prior to the start of the show. The Great Hall waiting area includes a complimentary appetizer buffet, a full cash bar, an emcee to guide you through your evening, and various artists to offer services and entertainment. The main arena will open for seating 45 minutes prior to the start of the show. The arena floor will host games and activities for children, an optional upgrade to a sneak peek of the Horse Stables will be available and a presentation of various horse breeds used in the show will occur 15 minutes prior to the start of the show.
Are cameras allowed during the show? Can guests take photos?
Flash photography is allowed during the show. Audio and video recording are strictly prohibited.
What is the length of intermission?
There is no intermission.
Are visitors allowed to meet & greet the performers at Arabian Nights?
No.

Only visitors with the VIP Experience upgrade will be able to meet and greet the performers.

This is an additional cost but visitors can upgrade to this experience directly at Arabian Nights.
When do guests select their meals and what are the meal options?
Each meal comes with a dinner roll, the choice of 6 entrée options, and 2 dessert options. This selection includes a vegetarian and children's option. Once you are seated you are presented with a menu listing these items in detail and you place your order then with your server. Additionally, if you would like a Kosher or any other special meal (Gluten-free etc.) the show would be happy to accommodate you but require 24 hour notice.
All meals except for the Creamy Vegetable Lasagna and Children's Chicken Tenders are served with steakhouse mashed potatoes and seasonal vegetables.
The menu options include: Pot Roast on Pastry Puff, Sirloin Steak, Pulled Pork, Roasted Chicken Quarter, Adult's Chicken Tenders, Children's Chicken Tenders and Creamy Vegetable Lasagna.
All meals are served with unlimited Pepsi products. Dessert is a choice of Chocolate or Vanilla cake.
When is dinner served at Arabian Nights?
There is a complimentary appetizer buffet during the pre-show. The main course is served during the first 15 to 30 minutes of the show.
Are beverages really unlimited at Arabian Nights?
Yes, during the main show there are unlimited Pepsi-Cola products, coffee and tea. There are two unlimited alcoholic beverage packages that can be purchased in addition. A cash bar for cocktails is also available.
Where do visitors sit? Is it indoors?
Arabian Nights has the world's largest indoor climate-controlled equestrian arena at 56,000 sq. ft. with seating for up to 1,200 guests. Twelve sections of tiered seating offer unobstructed views of the performance. Preferential seating is also available for physically challenged guests.
What is my seating for the show?
You are guaranteed the best seats available at time of reservation. However, we cannot confirm your seat location.
What is the size of the Arabian Nights Dinner Show Theater?
The theater is 140,000 sq ft.

How many rows constitute your theater?
There are seven rows in the theater.
Does Arabian Nights have onsite parking, and is there a fee?
Arabian Nights offers plenty of onsite parking, free of charge.
Is Arabian Nights handicap accessible?
Yes. Preferred seating for guests with wheelchairs and their parties is available.
How should guests dress? Is there specific attire or dress code required?
This is a family fun atmosphere – casual dress is fine. Also, if you get cold easily it would be best to bring a light sweater; the arena is kept at a balmy 65 degrees Fahrenheit.
Select a Date and Time to Continue:
We're sorry. This product is unavailable for your date range.