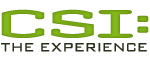 CSI: The Experience
in Orlando, FL
7220 International Drive
•
Orlando
,
FL
32819
About CSI:The Experience
Solve a Crime with CSI: The Experience

Imagine entering a crime scene and being the one responsible for noticing and collecting every trace of evidence. The pressure is on: you know the analysis of your evidence must be scientifically sound to crack the case.

CSI: The Experience is a completely immersive exhibit that invites visitors to enter "crime" scenes where they identify and record evidence. It takes them inside "laboratories" for scientific testing and to "autopsy" rooms for pathology analysis. Then it returns them to the "office" to build their case. The exhibit brings to life the real scientific principles and the most advanced scientific techniques used today by crime scene investigators and forensic scientists.

Regular Opening Hours
Monday – Saturday: 10:00 AM – 9:00 PM
(last entry 8:00 PM)
Sunday: 10:00 AM – 8:00 PM
(last entry 7:00 PM)


CSI:The Experience Frequently Asked Questions
What is CSI: The Experience ?
CSI: The Experience is an interactive exhibit providing visitors with a hands-on, exploratory, multi-sensory experience in the world of crime scene investigation. It is designed to educate the public about forensic processes, procedures and technologies. At the exhibit, visitors will investigate a "real" crime scene and interact via video with favorite characters from the hit television show as well as real-life forensic experts.
Do you provide accompanying educational materials for this exhibit?
Yes, additional educational materials (Family Guide and Educator's Resource Guide) may be
downloaded here
.
Who should attend CSI: The Experience?
Anyone interested in learning about investigative forensic science. Adults of all ages and children age 12 and over will find the material fascinating and informative.
Is this exhibit appropriate for children?
This exhibit is most effective for visitors from age 12 to adult. Parents, guardians, and educators should view the interactive preview and exercise judgment to determine whether the exhibit is right for your individual children or students. The preview includes facts to help you make a well-informed decision about the appropriateness for younger audiences.
Are the exhibit scenes and videos unique?
Yes, our exhibit features never-before-seen footage of your favorite CSI characters as well as footage from real-life crime scene investigators and forensic analysts. By combining the show's education and entertainment with real-life expert teaching, we provide an engaging format for learning the processes of investigative forensic technology.
What will visitors do as they walk through the exhibit?
Upon entering, you will be briefed via video and then directed to one of three staged crime scenes. Once on the scene, you will use your investigator's notebook to examine the evidence and determine what you believe to be the important clues. After you complete your crime scene investigation, you will compare your clues with those of a real crime scene investigators and determine which clues need further analysis.
Then, you will proceed to the labs to investigate your findings. You will also visit the medical examiner for your autopsy report and note the important medical evidence. CSI characters and real-life experts are "working" via video in our virtual labs to explain tire track comparison, blood spatter analysis, firearms technology comparison, and much more; use the data they provide to help you examine your specific crime scene clues in the lab. You may be asked to compare tire tracks, pollen fibers, DNA, or shell casings. Finally, you will submit your report and conclusions at the end of your investigation and learn whether you have correctly solved the case.
What are the differences between the three crime scenes?
Each crime scene is a different scenario with a separate story line and unique clues, but they are all equally engaging and challenging to solve. Each mystery involves a visit to the medical examiner and various crime labs. Your group will be assigned one of the three scenes when you arrive at the exhibit.
Which kind of analyzing and testing I could do?
Investigation: A House Collided
"A House Collided" investigators will compare fingerprints of the victim to the evidence, examine blood spatter patterns, observe the shoes of the victim and tracks found in the room, compare fibers on the victim's clothes with fibers in the room, analyze the victim's blood-alcohol level, compare DNA of the victim with evidence and eventually discover the cause of death.
Investigation: Who Got Served?
For "Who Got Served?" the investigation will include reviewing evidence within a cell phone, examining the contents of the handbag, inspecting the purse and headshot for fingerprints, establishing the time of death, reviewing DNA samples, testing powder from the handbag at the scene, and discovering the cause of death.
Investigation: No Bones About It!
Sleuths working on "No Bones About It!" will analyze the bullet from the found skull, analyze hairs found with the body, examine a seed found in a the pocket of a coat, study a DNA sample from a tooth, test the DNA of an animal's hair, examine a femur bone to establish the height of the victim, compare dental records to the victim and discover the cause of death.
Can I choose the scene I want?
If the crowd patterns are light enough, most venues will be able to accommodate requests.
To whom do I report?
At the end of the exhibit, present your findings in a recreation of the office of Gil Grissom—the enigmatic CSI head investigator. You will answer a series of multiple choice questions, based on your scientific findings, on touch screens located in this area. After completing these questions, a case summary is generated and you'll match your results to those of expert crime scene investigators! At the very end, you enter your data and you will receive your personal CSI: Diploma.
Is there an audio tour?
CSI: The Experience is unlike most typical museum tours. The multimedia is an integral part of the exhibit and will be used by each participant as they proceed through the learning environment. You will access the media at each station, rather than carry a guided museum audio commentary with you.
How long can I stay inside the exhibit?
Once you enter the exhibit, you may investigate as long as you wish. Average time in each crime scene is approximately 10 minutes. Most guest spend 50 minutes to 1 hour in the exhibit overall.
Can I take my own pictures in the exhibit?
Sorry, no photography and video cameras are allowed.
Are food and drinks permitted in the exhibit?
Food and drinks must be consumed or disposed of prior to exhibit entry.
How long does it take to go through one of the crime scenes?
It takes 45 minutes to go through one crime scene and 1 1/2 hours to do all three.
Does my admission allow me to go through all three crime scenes?
Admission is valid for one crime scene only. If you'd like to add additional crime scenes to your itinerary, you can do so for $5 per crime scene at the attraction directly.
We're sorry. This product is unavailable for your date range.